Reference
All Reference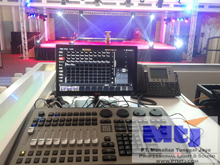 2018-04-30
Chevron Auditorium - AZTEC Professional Stage Lighting & Rigging chose the Professional Stage Lighting Solution by AZTEC for their newly renovated Auditorium and Multifunctional Hall. The renovation projects takes a long time to finish because of the Unique Construction of the Building and everyone in Chevron is making sure to give the best of best to their new facilities in Duri area.
The Equipment Setups at Duri Multifunctional Auditorium Hall are as follows:
- 10 Units of AZTEC LED PAR 2 RGBW 18 x 10 Watt
- 8 Units of AZTEC LED Moving Head WASH 4 in 1 RGBW (18 x 10 Wat RGBW LEDs)
- 1 Unit of AZTEC Dimmer Pack 1230 DMX
- 2 Units of MARTIN M2Go Lig...
more...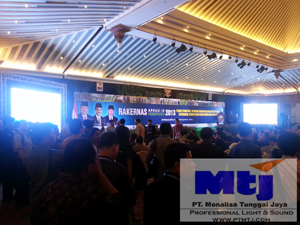 2013-10-21
MACH Speaker, AZTEC Lighting & AZTEC LED Display perform in the Rakernas Perhitptani 2013 hosted at Hotel Grand Sahid Jakarta.
The show is one of the important events where discussion regarding food supplies are discussed.
The events are hosted and was opened by the president of Indonesia 2013, Susilo Bam...

more...
2013-10-21
BayWalk Pluit Events trusted the solution for PH-6 Indoor AZTEC to come out for the best picture resolution and results in their events.
There are total of 24 Cabinets to make up the size of 6 x 4 Mtr Wide , with the result everyone is very impressed in the picture quality and LED smoothness making it a very successful eve...

more...
2013-10-21
GBI Aruna Held the most prestigeous Christmas Events with Movies , Drama , Speeches which supported with AZTEC LED Display PH-6 in the background .
48 Cabinets are installed to make Size of 8 Mtr x 6 Mtr Screen.
LED Display by AZTEC with below Specifications :
more...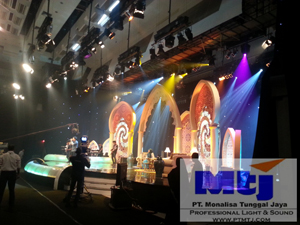 2013-10-20
TVRI Lighting Upgrade Additional to give a better and newer technology for the Lighting Auditorium Broadcast .
With the upgrades the capacity and creative designer can be enhanced and building the products branding and positioning in the market .
The Lighting installations combines the solution from AZTEC for BASIC Lights and MA...

more...
Search